Gallery |Sports News | TY MOJO | BCCNS Twitter | Careers Dept Twitter
November/December 2020
Well done to all those involved in creating our promotional video- a taste of life here at Banagher College. Click here to view
The LCA1 class with construction teachers Mr Boyle and Mr Shanahan presented Offaly Healthy Homes staff with the Christmas decorations they made in class. The decorations and the letters of goodwill written by the students will find good homes across the county this Christmas.

Banagher College is looking very festive for Christmas. Ms. Kelleher and her TY team have been busy decorating the school. Our Christmas cards are on their way to our Inside Out Erasmus Plus Partner Schools. Thank you Grania Connaughton and Shane Coughlan. We have also received some christmas cards from our partner schools. Click on gallery to see more.
#Miles4MsH- Congratulations to Ms Cushen, TY students for all their hard work in the campaign to raise money for Breast Cancer Research.  Thanks to staff, students, past pupils, parents and the many people with a link to our school community supported Ms Hassett on her journey.  We set out to cover 32 journeys from Kinnity to Dublin, a distance of 7,000km. Our final distance walked/run was 10,836km over the course of the last few weeks from accross the globe.  A total of  €14,500 was raised for Breast Cancer Research. What a fantastic achievement! See more by clicking here.
Christmas Exams for 1st, 2nd and 5th year students will be held from 16th -18th December. Click here to see timetables.
September/October 2020
#Miles4MsH- Our TY's have started an awareness and fundraising campaign for Breast Cancer Ireland in support of our very own Ms Hassett. Donations can be given to TY's. Check out #Miles4MsH for more updates. See some photos here.
A candle lighting in the front hall on World Mental Health Day 10th October as a symbol of hope for better times ahead:
Be proud of what you have achieved, recognise the challenges you have overcome, be kind to yourself and others.
Well done to Maija and Megan in TY for making a super Road Safety Tips video. 
Well done to the JCA 2/3's and their teacher Ms. Mierzwa for their beautiful creations in Horticulture out of fallen leaves.
Isobel presented key road safety messages to some 1st years as part of her Social Ed project. Well done Isobel.
Well done to our students on the St Rynagh's Senior Camogie Panel who brought in the Offaly Senior Camogie Trophy which St Rynagh's have just collected for the fourth year in succession.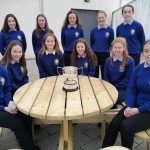 Oct 5th was World Teachers Day. Thanks to Mr Scales for the croissants and fruit and to the TUI for the fruit to mark the day.
———————————————————————————-
Leaving Cert Virtual Graduation
26th June 2020
TY Virtual Graduation
28th May 2020