Awards
Congratulations to all those who recieved awards at this years awards ceremony held on Friday 18th October.
Our special guest speaker was Mr. Paul Fields, Director of Education for LOETB.
All of our Award winners were presented with their certificates at a ceremony in the presence of their families, Teachers, students, Mr Scales, Ms Kinehan & Mr. Paul Fields, Director of Schools LOETB, Mr. Barry Murphy (Banagher Precast Concrete), Ms Maureen McCormack (Bank of Ireland),  Mrs Nora Kennedy, Mrs. Elaine Eastwood & Mr. Edward Delahunt.
A big thank you to Mr Barry Murphy from Banagher Precast for sponsoring our STEM Awards 2019.
See Photo Gallery of Award winners here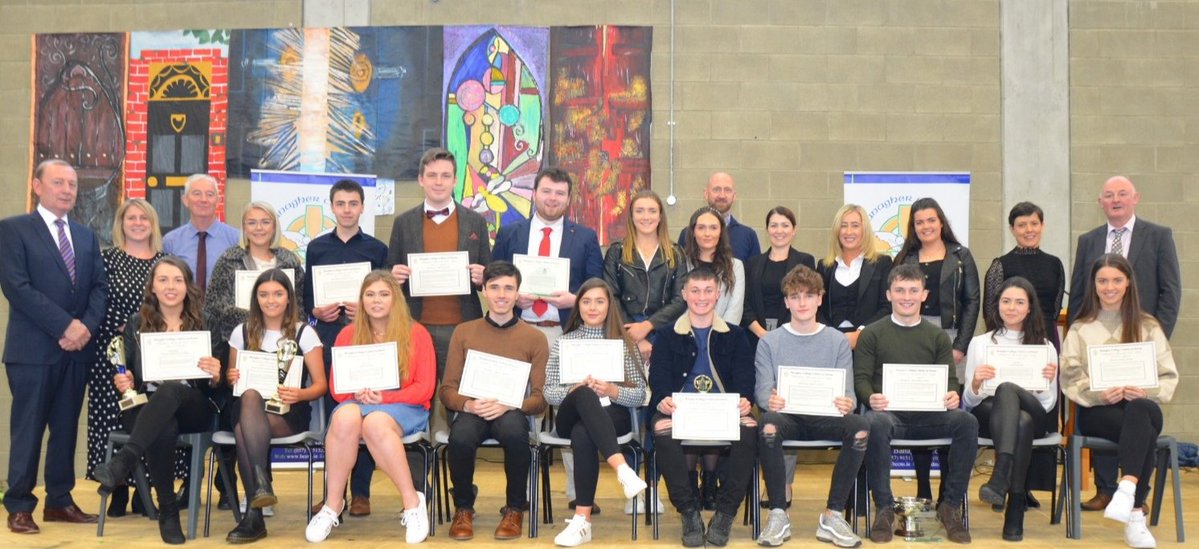 High Achievements in the past few years
Banagher College, Colaiste Na Sionna enjoyed numerous high achievements during the past few years. The following are some of the highlights:
STEM SCHOLARSHIP for BANAGHER COLLEGE COLÁISTE na SIONNA
Four Offaly students have been selected to be the county's STEM Ambassadors and have received scholarships from the county board. The scholarship programme was established by the Offaly County Development Board to encourage more secondary school students to get involved in science and to pursue courses and careers in STEM (science, technology, engineering and mathematics).
The four ambassadors are:
Jordan Nash, Coláiste na Sionna

Sharon Boland, Coláiste Íosagáin, Portarlington

Eoin Delaney, Tullamore College

and Donnacha Carroll, St Brendan's Community College, Birr.
They have since moved on to science courses at universities and ITs around the country.
Jordan Nash is now studying mechanical engineering in GMIT. Science, Technology, Engineering and Maths are very strongly promoted in Banagher College & we look forward to seeing more of our students choosing this career pathway.