On Thursday, World Mental Health day, our TYs attended Zeminar, a Wellbeing & Educational event in the National Sports Campus, Dublin, with influential speakers, resources & fun activities!

Inspirational talks heard by our TYs at Zeminar

Live music at Zeminar

Our 2nd years are on school tour to Barcelona from Early Wednesday until Saturday. Many activities have been arranged including a tour of Barcelona, a visit to Sagrada Familia (Church of the Holy Family), Cosmo Caixa Science Museum, and tour of the old City of Tarragona. Click here to see photo gallery. 
Our First Year Boys are took part in a First Year Blitz in The Faithful Fields.
Well done to our first year team who came in 3rd at the Credit Union Quiz on Tuesday night in Clara. Congratulations on representing Banagher College and thanks to Miss Minnock for accompanying the students.
Well done to all our Class Prefects who received their Prefect Badges at  Opening of the School Year Mass in St Rynagh' Church Banagher on Tuesday.
A huge thank you to Grennans of Rath for showing our Leaving Cert Ag Science class around the factory today on their Ecology trip.
30th September- 4th October
One of our Higher Irish Leaving Cert classes went to see "An Triail" in The Belltable Theatre in Limerick City o Tuesday.
Our Senior Cycle Art students enjoying themselves in Newgrange Co Meath also on Wednesday.
Score from the Top Oil North Leinster Junior B Hurling Championship Rd 2- Full time score:  Banagher College: 1-5(8) Coláiste Mhuire Mullingar: 4-15(27).
Well done to our students who came 11th & 8th in Cross Country recently. Callum goes forward to represent Offaly cross country.
Result from Leinster Junior D Ladies Football Round 2: Full time Banagher College: 6-8(26) Oaklands C.S. Edenderry: 6-9(27)
Banagher College LC2 LCVP students  went on a visit this week, to Butlers Chocolate in preparation for their LCVP exam.
On Thursday our Junior ladies football team played in the Leinster Junior D Ladies Round 1. Final score- Banagher College: 4-4(16) Killina Secondary School: 5-11(26).
On Thursday, Daniel Daly and Gráinne Malone were in Tullamore participating in SICAP "Make way day". They are heading out to walk Tullamore town in search of inclusion and obstacles.
Our Junior Camogie team played in the Leinster Junior B Camogie Seven-a-Side FINAL on Wednesday.  Scores- Banagher College: 8-7(31) Castlecomer Community School: 9-10(37),  Banagher College: 9-3(30) Coláiste Mhuire Johnstown: 6-3(21), Banagher College: 5-5(20) Castlecomer Community School: 6-3(21), Banagher College: 6-6(24) Abbey Community College: 1-0(3)
Our Junior Hurlers will play an away challenge game v Mountrath CS who will be competing in the Leinster Colleges Junior A1 Competition this year. Banagher have remaining away games v Col Mhuire Mullingar & Col Choilm Tullamore in the North Leinster Junior B competition.
Our Sixth Year and Third Year Students attended a very beneficial Study Skills Seminar with The Super Generation team this week. This will provide some excellent guidance for the year ahead.
Banagher College TY's  were in NUIG on a campus tour on Monday.
Leinster Junior B Camogie Round 1 was played on Monday. Full time score- Banagher College: 5-10(25) Mountrath CS: 2-4(10).
16th- 20th September
Banagher College Students attended Higher Options in the RDS on Thursday. They attended a Lecture on "Going to College in Europe".
On Tuesday our Ag Science students who just enjoyed a glorious day at the Ploughing Championships in Carlow.
Well done to Leaving Cert pupil Sinainn Glynn, who was competing in the European Boxing Championships last week and reached the quarter final. Sinainn will be underage again next year.
Leaving Cert and 5th yr Art students travelled to Limerick's Hunt Museum for a visit on Tuesday.
Our Four volunteer students who were in Lourdes doing great work with the pilgrims. They meet up with Ian Daly and Ciara Kilmartin who are out in Lourdes for the second time. Well done to all!
Our German Exchange students bid farewell to Germany on Monday.  Tschüss Gymnasium Hohenschwangau! It was an amazing experience. pictures to follow.
Junior Hurlers won their first game of the year. Full time score-  Banagher College: 4-14(26) Heywood C.S.: 2-16(22)
9th -13th September
Our Camogie Season begins on Friday when Coláiste Pobail Ros Cré will be our guests for a Junior Camogie Challenge at 12.10pm in Banagher College.
Our Hurling Season also begins on Friday when our Junior hurlers travel to Portumna for a Junior Hurling Challenge at 11.00am v Portumna C.S.
Best wishes to our four Banagher College Students who are travelling to Lourdes thursday with The Oblate Youth Ministry to assist pilgrims over the next seven days.
Sixteen of our pupils and two teachers travelled to Hohenschwangau near the town of Fussen in Bavaria on their German Exchange Tour from Monday 9th to Monday 16th. Gute Reise! Click here to see more Photos here

Our Leaving Cert Geography students travelled to Bishop's Quarter Beach, Co. Claire on their Geography Field Trip on Tuesday.
Well done to Finn Gohery (Galway) and to Korbin Dolan & Eric Rigney (Offaly) who represented their respective counties in the Sonny Walsh U-14 National Hurling Tournament in Waterford recently.
Thanks to "Horizon Training" for visiting our school on Tuesday and Wednesday to provide essential First Aid training for all our Transition Year Pupils.
Preparations are well underway for the LOETB County Sports in The Harriers Tullamore on Thursday October 3rd. Trials on Wednesday for U-15 running squads.

Well done to staff member, Miss Morkan on her television interview at the All Ireland Camogie Final.  https://twitter.com/nuiggaa1/status/1170728322684379139 
LC1 pupil Christina Maloney welcomes new Offaly Senior Hurling manager Michael Fennelly to Offaly to get his first taste of Senior Club action!.
2 Sept-6th September
August/ September 2019
We welcomed our new 1st years on Friday 23rd. They had a busy day and finished up the afternoon with a table quiz with their Cáirde leaders and tutors. Well done to the winners!
Well done to Daniel Daly who spoke on RTE Radio One on 20th August at the launch of Ireland's Disability Summit in Croke Park. Click here to watch the interview. ________________________________________________________________________________ 27th- 31st May
Last week Banagher College TY students Michael Kelly and Jarlath McEvoy presented the profits from their Jersey Enterprise activity to Kate Brennan on behalf of Jigsaw Offaly.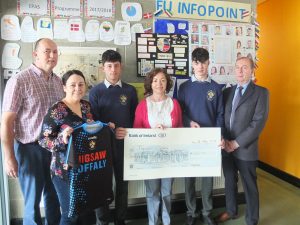 Banagher College were delighted to present a cheque for €300 to The Samaritans from proceeds gathered at the Christmas Talent Show.
Our TY M.O.S. Certificate Presentation 2019.
Our TY students, parents and teachers enjoyed a great awards night last Thursday night.  They even showed off some of their social dancing skills! See photogallery for more
On Tuesday our JCSPs and LCA1s are at Portumna Forest Park  and Tynagh Pallas Karting on a team building and environmental awareness day. See gallery here
LC1 pupils,Tomás Daly and Lauren Temple at the Grotto in Lourdes this morning on the Ardagh and Clonmacnoise Diocesan Pilgrimage.
Congratulations to the winners of our recent Lourdes fund raffle. Winner of First Prize in our recent Lourdes Fund Raffle was Abbie Temple Lusmagh. Abbie won a bicycle which was kindly sponsored by Anthony Coyne Cycles Kinnegad.

Winner of First Prize

Winner of Third Prize was LC1 Student, Deirdre who won a Penney's Voucher.

Winner of Fifth Prize in our recent Lourdes Fund Raffle was PE Teacher,Mr Lonergan who won a Box of Sweets.

Winner of Sixth Prize in our recent Lourdes Fund Raffle was Emily who won a Box of Sweets.

Winner of Fourth Prize in our recent Lourdes Fund Raffle was Tommy Cahalan who won a Hamper which was accepted by his son.
20th- 24th May
ICE-CREAM DAY will take place in Banagher College on Thursday, 23rd May. There will be a wide variety of Ice-Creams available. This is in aid of a very ill 14 month old child. Please remember to bring in money. Any proceeds welcome.
Banagher College featured in the European Election "#Thistimeimvoting.eu" leaflet campaign.#EPASIreland
Our you 18 and over? European Elections 24th May 2019. Visit our EPAS notice board to learn all about it.
Our First Years and their Cairde Leaders had a great day in Tayto Park on Tuesday.
Daniel and Gráinne working hard at the Ombudsman for Children's Office in Dublin on Monday. Consultation for children with disabilities. Well done!
13th – 17th May
Our First Year Sports Day took place on Friday May 17th.
Well done to Teams B and C on their victories in the first round of our First Year Lunchtime Camogie League. Round Two will take place on Monday next May 20th.
Congratulations to our students who were selected for LOETB Recognising Artistic Talent in our Schools Awards in the Dunamaise Arts Centre Portlaoise on Monday night last May 13th. Well done all. Click to see more in photogallery.
Well done to Aoibhe, Naoise and Meibh Dooley for performing so brilliantly at the @laoisoffalyetb Arts Awards in Dunamaise Theatre in Portlaoise. The girls play a jg and reel here and it was arranged by Meibh. See a clip here
Our TY's at the UCC Open Day in Cork on Wednesday!
2C & 2D at the Epic Museum Dublin and visiting the Jeanie Johnston on Tuesday.
Best wishes to Banagher College TY student Shauna Mitchell, one of the top performing students in Microsoft PowerPoint from across all 32 counties, who competes today in the Microsoft Office Specialist PowerPoint finals in Microsoft HQ, Dreamspace, Dublin!
Well done to our music and art students who represented us so well at the first Arts Awards night held by Laois Offaly ETB in Portlaoise. What a great night for celebrating the musical and artistic talents of our students.
TYs taking part in a Drumming Workshop this morning with Mark Jerome! Watch a clip here 
Second Years enjoying their Sports Day on a beautiful May morning.
Some photos from the Darkness Into Light Walk from Banagher College on Saturday morning last. Well done to all concerned.
6th -10 May
Click here to watch the Darkness into Light manifesto performed by the Banagher College TY students.
798 wellys were thrown today breaking a previous record of 792 set by The Holsworthy & Stratton Show 2018.Thanks to @colaiste_choilm for inviting 1b & 1c to be apart of the event in aid of Offaly Hospice. All details are being sent to the Guinness World Records for verification.
Ms Gleeson and our TYs  travelled to Knock on Thursday. They met Mícheál Ó Muircheartaigh.
Our TY group "Offaly Good Soup" are runners up in the GIY GROW2CEO challenge. Well done.
It's not too late to register! Go to

http://www.

darknessintolight.com

 

to register today! Join us Saturday morn and turn Banagher into a sea of yellow! #DIL2019 #DILBanagher #ThePowerOfHope
Our TY's have attached many coloured ribbons to this front of school sapling to commemorate Our Lady's Month of May.
TY's taking part in a Culinary Bootcamp in AIT on Wednesday. Click here to see more in the photo gallery. 
Well done to Ty students Daniel Daly and Eve Martin who today visited Dún na Sí sensory garden in Moate. Many thanks to Moate Community School students who hosted the visit and requested Daniel's perspective and recommendations on their work so far. Well done all.
Many thanks to Anthony Coyne Cycles Kinnegad for sponsoring a bike for our Lourdes fund raffle.
Well done to our 3 students, Callum Flannery(0-3), Barry Connolly & Jacob Mahon who played with Offaly in the Celtic Challenge Rd 1 v Laois last night.
LCI student Julia Jastrzebska had a very successful work placement with @tullamoretrib over Easter. She even had the opportunity to pen these excellent articles about her life journey and her adopted home town. Big thanks to Ger and all at the Tribune. 
Thank you to Siobhán Broderick from OLDC who presented a cheque to Daniel Daly for his community road safety project. Daniel and his peers, Eve and Gráinne in photo today, are doing an access study on Banagher. 
Darkness Into Light. Registration for next week's Darkness Into Light event will take place during Lunchtime for the remainder of this week in the canteen.
Lidl U14 Ladies Football Blitz was played on Tuesday 30th.  Bccns 3:1(10) Colaiste Iosagain, Portlarigton 3:4(13) Colaiste Iosagain, Portlarigton win by 3 points full time.
Kevin and Daragh admiring the new walking route map of Banagher College 
8th – 12th April
The latest news from the @BanagherCollege TY Mojo News team, covering the latest events at BCCNS – including the TY Tour to Italy. Well done to Hannah and Eimear for their sterling work. Click here to watch
U-14 LIDL Leinster Ladies Football Blitz in Kinnegad with two Banagher College teams partaking. Great games girls! 
TY's are on tour in Italy from Monday until Thursday.
First years enjoying an Easter Egg Hunt today French Style! 
Our 2A Class are on their CSPE trip to Dublin today and have just presented a cheque for €350 to the Fr Peter McVerry Trust, the proceeds of some fundraising done by our students to help the homeless. Maith Sibh.
1st – 5th April
An interesting day for TY Student Daniel as he tried out OrCam visual aid around the school. This device reads signage and text into your ear and has face recognition ability.

OrCam Visual Aid

Boccia final took place on Wednesday between the Irish Wheelchair Association & Banagher College. Banagher College were successful this year in taking the cup back from the IWA who were last year's winners. Winning team (Hannah Cannon, Oisín Flannery, Calum Flannery, Ciara Flynn and Andrew Barrett). 

Boccia League Final

Banagher College Lourdes Fund. Tickets for our Easter Raffle will be on Sale each lunchtime in the canteen. Prizes include – a Bicycle, – JD Sports Voucher, – Penneys Voucher and an – Easter Hamper. Tickets cost €2 or 3 for €5 Please support.
Hard luck to all our students involved with the Offaly Minor Camogie team yesterday. All-Ireland Minor A Championship Full time Kilkenny : 1-16(19) Offaly: 0-9(9)
TY students produced this 30 second video as part of the @CASuicide Ambassador Schools Award. It highlights the vulnerability of students through exclusion and encourages them to take a stand and make a positive difference in everyday life. #herovibes Click here to watch Video 


@BanagherCollege TY students produced this 30 second video as part of the @CASuicide Ambassador Schools Award. It highlights the vulnerability of students through exclusion and encourages them to take a stand and make a positive difference in everyday life. #herovibes pic.twitter.com/uZlrfVOWyJ

— BCCNSEnglish (@BCCNSEnglish) April 3, 2019
On Tuesday our TYs undertook GAA referee course with Conor Clancy.
Denis Rusu from @leinsterrugby doing Tag Rugby with our 2nd years today. 
On Thursday The Banagher College Mojo (mobile journalism) Team were at @MS_eduIRL Dreamspace with their certificate as part of their prize for coming second (highly commended) in the @Webwise_Ireland #SIDawards for their internet safety video. Well done to producer Eve Martin and her team.
Two Finnish teachers, Nina and Marjaana, visited Banagher College from Monday March 25th until Friday 29th. They are interested in seeing how an Irish school system functions, and they will be shadowing some teachers. Huge thanks to all those who volunteered.
Our TYs had their Bank of Ireland launch on Monday 25th. 
Bank of Ireland giving a Financial Literacy talk to 1st year Business students.
18th-22nd March
Our TY students preparing their application forms for positions on the school Bank of Ireland team ahead of interviews on Wednesday. 
Our TYs hearing all about renewable energy at Mount Lucas wind farm when they visited on Tuesday. 
Leinster Minor A Camogie Championship Round 2: Full Time Banagher College: 4-7(19) Presentation SS Kilkenny: 10-6(36). Played in Kilkenny on Thursday. 
Banagher College celebrated World Down Syndrome day by going on a fundraising school walk on Thursday afternoon. 
Nicholas, Chloe and Marie proudly receiving their certificates for their book, 'Diaries of a School Bully' at the 'Make a Book ' exhibition in the Killeshin Hotel Portlaoise today. Well done. 
11th -15th March
TY Mojo team, led by Eve Martin, have won a Webwise award for their Internet safety video. They will be attending the #SIDawards ceremony at @MS_eduIRL Dreamspace later in the month. #SID2019  Watch video here
LCA 1 Mini Company Stuff'n'Muffins, will be selling delicious homemade Chocolate Muffins and Ice Cream on Thursday at Lunch time outside the Home Economics Room. Cost €2.50 
Mollie Yates's family visited Banagher College today to see the Multi Sensory room that Mollie has raised money for.
Well done to the TY MOJO team who ran a very successful cake sale today to finance some of their activities. More cakes etc on sale this Friday 15th.
Well done to TY Students,Eden Raper and Andrew Barrett who took the 1C Class for a Maths lesson today.
On Wednesday 5th year and LCA visited Gurteen College Open Day. 
Daniel Daly addressed Banagher Active Retirement group on Tuesday about his Access project. Many thanks to Mary Hughes for organizing it for us. Many thanks to members for completing Daniels survey. Well done TY students.
Well done to all our students who went to Ballinasloe on tuesday night with Miss Dolan for the Tráth na gCeist Seachtain na Gaeilge.  Three teams participated in the Tráth na gCeist in Gullanes Ballinasloe. Réamhaisnéis na hAimsire: Fíor-ghaofar inniu; meascán sealanna geala agus ceathanna troma & toirniúla scaipthe, roinnt le cloch shneachta, nó flichshneachta ar thalamh ard. Gaoth aniar an-láidir ar fud na tíre, ag fórsa gála sa Tuaisceart & Iarthuaisceart le bataí ghaoithe crua.  An fhoireann a tháinig sa dara háit i dTráth na gCeist urraithe ag Conradh na Gaeilge mar chuid de Sheachtain na Gaeilge anocht.Comhghairdeas le Jordan, Shane, Siobhán, Eimear agus Aoife
This week, An Tobar Nua retreat team spent an enjoyable time with our students sharing stories, having fun and being mindful. 

Second Years doing The Dice Challenge on Retreat

Second Years doing Testimonial Time on Retreat

Second Years doing The Mystery Box Challenge on Retreat

The Winning team during today's Second Year Retreat. Well done folks.
4th – 8th March
TY students were in Athlone IT today, they attended a lecture on Careers in Space as part of Engineering Week 2019. 
Ben Rooney from NUIG Business School talked to senior Business & Accounting students & TY's on 8th March about courses and careers in Business and Accounting.
1C reanacted a medieval event in History class this week. Well done! 
Winner of the student vote at today's Student Enterprise Awards!! A huge congrats Isobel. 
TY students were in Athlone IT today, they attended a lecture on Careers in Space as part of Engineering Week 2019.  
TY student Daniel trying some assistive technology at Athlone IT today.
North Leinster Juvenile Hurling B Round 2: Banagher College v Naas CBS in Naas Thursday March 7th at 1pm.
Leinster A Minor Camogie Championship Round 1: Banagher College v Birr CS in Banagher College at 1.45pm on Thursday March 7th. Referee : Kieran Dooley.  Full time score Banagher College: 7-11(32) Birr CS: 6-7(25)
Thanks to Ann Marie Kelly from Midlands 103 radio for coming to Banagher College on Wednesday. Ann Marie interviewed our recent Garda Youth Award winners, classmates and teachers. We look forward to hearing the broadcast. Congratulations Daniel Daly and his team, and Mollie Yates.
Leaving Certs & LCA Students- PLC Talk from Laois Offaly ETB in Demo Room Tuesday March 5th 2019 @ 10 am. These courses will be mainly held in Tullamore LOETB PLC Courses in: • Advanced Certificate in Business (Level 6) • Applied Social Studies Applied Science (Laboratory Techniques) • Computer Systems and Networks • Engineering Technology • Hotel and Restaurant Skills • Pre-Nursing
1B Geography Class preparing for the big debate on Fossil Fuel use. 
Our TYs had their social dancing final on Tuesday. In first place, Daniel James & Eve. And in joint second place, Callum & Rebecca along with Ella & Ellie! Well done to all! 
On Tuesday our Juvenile Hurlers played Coláiste Choilm Tullamore in their first game in this year's Leinster Juvenile B Championship in Banagher College.  Full Time score:  Banagher College 3-11 (20) Coláiste Choilm 2-12 (18)
Congratulations to Mollie Yates & Daniel Daly on receiving Laois Offaly Garda Youth Awards tonight. Mollie's project was to equip a multi sensory room in the school while Daniel's project is an access study on Banagher.
11th-15th February
Schools Go Orange Day on Friday 15th February

A nationwide initiative to promote positive mental health by raising awareness that it is  –  ok not to feel ok and it's absolutely ok to ask for help. A range of activities take place throughout the day. We ll done to all the TY's involved, Ms. Gleeson and Ms. McIntyre.  See photogallery here
Tá Coláiste na Sionna ag ceiliúradh Lá Fhéile Vailintín. Students received Lollipops (delivered by TYs) from their secret admirers. €110 was raised for @CASuicide on Thursday morning. 
Best of luck to Banagher College students,Meibh, Naoise & Aoibhe Dooley representing Offaly at the All Ireland Scór na nÓg instrumental music this weekend in Castlebar.
TY students busy making Friendship Bracelets for Schools Go Orange Day on Friday 15th.#SchoolsGoOrange
Congratulations to Mollie Yates (LCA2) & Daniel Daly (TY2) on winning Laois Offaly Garda Youth Awards. Mollie's project was to equip a multi-sensory room in the school and Daniel's project is an access study on Banagher.
Bake Sale was held on Tuesday in aid of the Banagher Branch of St Vincent De Paul.
Our Minor Camogie team have their first outing of the year with a challenge game v Coláiste Naomh Cormac on Monday in Banagher College.
Our TYs are on their Geography trip to Bord na Mona Mount Lucas Wind Farm on Wednesday. Studying Renewable energy/sustainable development.
Our Junior Cert Students will begin their Pre Junior Cert Exams on Thursday February 14th.
4th-8th February
Internet Safety Week- Activities in Banagher College throughout the week for Internet Safety Week will include: Radio competition on Thursday/Friday. SPHE classes watching the "Forever" Videos (1st and 2nd), Posters created by IT students posted around the school, flash cards on the canteen tables highlighting how to stay safe online, yellow SID (Safer Internet Day) wristbands.
Great work mind mapping the ways to stay safe online by first years in school today as part of Safer Internet Day 
The latest weekly news report from the @BanagherCollege mobile journalism team – @BCCNSmojo – as part of their @EdMojo1 project. #SEFDigital
Parent/Teacher/Student meeting on Wednesday from 4pm to 6.30pm for all LC1s,LCA1s and TYs.
CAO DEADLINE is Friday 1st Feb at 5.15pm. If you need help contact your Guidance Counsellor immediately. Please ensure all areas  of the application are complete by Friday.
TY students are attending Health Fest in Dublin on Thursday.
21st-25th January
Thanks to all those who attended our Open Night on Thursday. Click here to see more information.
Multi Sports Fundraiser for TY Young Innovators Team €2 per person. First Years: 1A-1D Class 4 Wednesday 23rd 1B-1C Class 5 Wednesday 23rd. 2nd Years: 2A-2D Class 6 Thursday 24th 2B-2C Class 5 Thursday 24th.
A Bake Sale in aid of 'Make a Wish' will take place on this Friday 25th January at break and lunchtime.
Banagher College U-15 soccer team competed in the West Leinster Final on Wednesday at 11.30 in Gainestown, Mullingar against Mercy, Ballymahon. The Banagher team reached the final on the back of 2 wins and 2 draws in the group stage, including a 3-3 draw against today's opponents. U15 West Leinster soccer final : Banagher College 2-2 Ballymahon ( Ballymahon Win 3-2 on penalties). See video clip
Heartiest Congratulations to Banagher College Fifth year Student Sinainn Glynn from Lusmagh on winning the Offaly Express Sports Star 2018. What an amazing achievement for Sinainn!  Read more here 
14th-18th January 
Please take the time to VOTE: It's time to crown the Offaly Sports Star of the Year for 2018. Sinainn Glynn is currently a student in our School and Ben Coneely is a past pupil.
TY students sat their online Microsoft Office Specialist exams in PowerPoint on Wednesday. Congratulations to all the successful candidates.
Hard luck to the three U-16 Badminton teams who didn't make it through to the Leinster finals on Tuesday in Birr but who put on some fabulous displays and represented the school excellently. 
Gerry Tynan (Laurencetown) is currently teaching Basic Jive Dancing to our TYs on a weekly basis, culminating in a Jive Dancing Competition at February Mid Term Break.
Well done to Mark Larkin, Saoirse Larkin, Katelyn Deegan, Sarah Moloney and Therese King taking part in the Bank of Ireland Bond Challenge in Portlaoise on January 11th.
7th-11th January 2019
The Offaly Schools U-19 Badminton championship are took place in Banagher College on Thursday 10th. Well done to everybody who participated. Congratulations to our U-19 Boys who came 2nd to Killina and are through to the U-19 Schools Badminton Leinster finals in Dublin on January 24th. Click here to see photo gallery.
Our TY's went to Ger Carey's comedy show in Moate on Thursday. 
Monster Raffle in the Christmas Talent Competition on Friday. Big Bear, €50 voucher, plus 6 other prizes to be won. Tickets on sale every lunchtime up to Thursday for €1. Separate teacher raffle also. Please enter to raise money for the Midlands branch of Samaritans. Thank you! 
Our Christmas Exams for First, Second and Fifth Years begin Tuesday December 18th. Go n-éirí libh go léir.
10th-14th December
Congratulations to Veronica Tesarova and Orla Moylan on being Prize winners in this year's LOETB Christmas card Competition.
"Little Red Riding Hood", Matinée took place on Wednesday December 12th at 10.45am followed by a brilliant opening night performance. See a short clip here
U-15 soccer: The late equaliser that claimed a share of the points against Ballymahon on Thursday, maintained the team's unbeaten run and leaves them in a strong position to claim a place in the West Leinster final.  Final score: Mercy, Ballymahon 3- 3 Banagher College FT (late equaliser came from a Ciaran Daly header)
Sen Camogie, Leinster A Cshp: Full time Banagher College: 10-8(38) St Joseph's Rochfortbridge: 2-9(15) played on Thursday.
All students who use the services of our School Canteen are invited to enter into Pat & Della's Christmas Draw.
2A held a Bake Sale on Tuesday 11th December during lunch time. All proceeds are going to the Fr. McVerry Trust which is an organisation which helps the homeless. Well done to all!
Our Christmas decorations are up! Congratulations and well done to Ms. Kelleher plus her team of decorators for their work in having the school looking so well in the run up to Christmas.
3rd-7th December
The TY JP2 candidates presented Christmas then and now, in St Rynaghs Church on Wednesday, a night of prayer, interviews, reflection and song followed by a re-enactment of the nativity. Well done to all involved. Click here to see more pictures.

John Paul II

Third Year Parent Teacher Meeting on Wednesday December 5th : 4.00pm until 6.30pm.
Well done to Molly who raised €441.55 with her cake sale on Tuesday and Wednesday in aid of Autism Awareness. Winner of the Raffle was Leaving Cert pupil Ciara O Rourke .
With all the roles appropriated, it's all systems go for this year's Pantomime "Little Red Riding Hood". Remember the dates- Wed 12th and Thur 13th at 8 pm. 

Panto Rehearsals

Banagher College School Digital Champion Team were in Thomond Park Conference Centre on Tuesday for specialised training to help them develop their Immersive Experience virtual reality project as part of the #schooldigitalchampionprogramme……
Back to top 26th-30th November
Congratulations to TY Student Isobel Dempsey, who made her debut on the Catwalk on Wednesday night at a Fashion Show in The Bridge House Tullamore. Well done Isobel.
Thanks to the Student Council, our first and second years enjoyed a pre- christmas treat today when they attended the legendary Christmas Movie"Home Alone" in the Banagher College Savoy.
Aidan Byrne artist from Belmont Mill in conjunction with Creative Engagement NAPD was working with our LCA classes on our mosaic project on Wednesday.
On Wednesday a group of TY's ran a Big Bike Raffle. Funds raised are going towards some of our Green Schools projects and charity.
Banagher College played in the Leinster B Senior Hurling championship. Final result:  Banagher College 0:20(20) Naas CBS 2:15(21)
19th-23rd November
Top Oil Leinster Senior B Hurling Championship Result: Banagher College 0:17 (17), Coláiste Mhuire Mullingar 2:17 (23).  Hard luck. Next game against Naas CBS on Tuesday November 27th at home is now a knockout game.
Banagher College hosted a very informative talk by Dr Maureen Griffin on Internet safety, social media and the difficulties and challenges faced by teenagers in todays' world. Thanks to all parents who attended. More information can be found on Dr. Griffin's website www.mgmstraining.ie
A taster of the mojo magic that Glen B Mulcahy brought to our EdMojo1 workshop in Banagher College on Tuesday.  Students learned so much over the day – ready now to bring our cluster project to fruition along with CBS Mullingar, Coláiste Chiarain, Coláiste Choilm and Athlone Education EC. See the work in progress here
Banagher College LCA student Mollie  Yates today met Adam Harris at a superb event organised by Ms Earner and the TY class in Ardscoil Chiarán Naofa, Clara. Adam Harris was inspirational.
After their 4-0 away victory against Clara, Banagher College's U-15 soccer team will play Mercy Ballymahon next on Wednesday 28th November in the second of their four group games in the West Leinster League.
Congratulations to our TY Quiz team who participated in the 'Battle of the Wits' County Final.  Well done on a strong performance but unlucky on this occasion.
Our 3C CSPE Class are travelled to the Irish Aid Centre in Clonmel Street in Dublin as part of their CSPE course on Monday 19th November.
On Friday our LC1 Link Modules students were given a presentation from Laois Offaly ETB  on Apprenticeships available to them through Solas.
12th-16th November
First Year Schools Camogie Blitz on Wed 14th at St Rynaghs Pitch starting at 10.30am. 15 teams from 9 schools are participating.
Kevin and Megan from Soar facilitated a powerful workshop on empowering our TY's to find their voice on Tuesday.
Garda Grace Heffernan delivered a talk on drugs to our LCA classes on Tuesday as part of a project for one of the studends. Well done Ben for organising this event.
Top Oil North Leinster Junior B Hurling Semi Finaltook place in Banagher College v Coláiste Mhuire Mullingar in Banagher College at 1.30pm on Tuesday November 13th. Final score: BCCNS 3:13(22) Mullingar CBS 3:16(25)
Our LCA 1 and LCA2 students went on a farm visit on and ecology outing to Kinnity on Wednesday.
30 of our TY's took part in ITLG Young Innovators – a one day innovation challenge event today in Shannon Airport.  They were given an inspiration talk by some of the all Ireland winning Limerick hurling team.
Banagher College observes Stand Up Awareness Week.  We are reminded to be respectful and kind to everybody that we are in contact with, in person or online.
Maths Revision Courses (Higher/Ordinary). Leaving Cert. Maths Revision Courses (Higher/Ordinary) now enrolling.  Completed application forms to be returned to the office ASAP.
Our TY's will hold a BAKE SALE on Friday Nov 16th at lunch break in aid of The Kurdish Womens' Refugee Centre in Calais.
Irish Wheelchair Association Angels on sale at lunch break in Banagher College this week.

Internet Safety Talk on Tues 20th at 7.30pm in Banagher College given by Dr. Maureen Griffin, Forensic Psychologist. We urge all parents to recognise the challenges facing young people with regard to use of the internet, social media etc. Dr. Griffin will explain the most recent trends and up to date information. This will be a very informative talk and we hope all parents will attend.
5th-9th November
TY students are on work experience this week.
Pre Mock Exam's taking place for 3rd years this week.
C.A.O. Parents Information Evening at 7.30pm.
JCSP Art trip to Lough Gur- See photo's here
Credit Union Art Poster Competition 2018 14 – 17 year category: 1st prize: Caoimhe Kelly; 2nd prize: Bonnie Stevenson.18 years + category: 1st prize: Leah Mullen; 2nd prize: Karen Hiney. Congratulations to all.
Back to Top 22nd-26th October
To mark the occasion of Holocaust survivor Tomi Reichental's visit to the school, talented Leaving Cert student Jacob Noyce wrote and performed a song for him. Watch here: "Tomi's Eyes" by Jacob Noyce.

As part of their Edmojo project (Mobile Journalism), the Mojo team have produced a series of videos of Holocaust Survivor Tomi Reichental, from his memorable visit to the school recently to speak to the students about his incredible life. Watch here: 

https://

youtu.be/cC2UgLeShYg

 

#sefd
Well done to our TYs, especially Siobhán, Aoife & Daniel who raised 570 euro, by holding their Bazaar yesterday .The money will be used towards providing a speaker for the School Radio at the Junior End of the school. Comhghairdeas libh go léir. See photo gallery 
Our 1st years went on their Cáirde outing on Tuesday for 1A and 1B with their leaders and 1C and 1D went on Wednesday with their leaders. See gallery
21st October
Some photos from our JP2 Awards presentation in St Mel's Cathedral Longford with Bishop Francis Duffy.

JP2 Awards
15th-18th October
Best wishes to Our Leaving Certs and TY's who are visiting UL, Limerick IT  and Mary Immaculate College today Thursday 18th.
Leaving Certs Evan, Eoin & James all completed their Theory Tests during TY and, having passed their Driving Tests, all now drive to school!
Ms Corley is attending the Seminar for European Parliament Ambassador School's Teachers in the European Parliament, Brussels. See Gallery
A Silver medal for LC1 Student Sinainn Glynn in the European Junior Boxing Championships in Russia.  What a brilliant achievement! Heartiest Congratulations Sinainn, we are all so very proud of you. Semi Final Results
8th-12th October
Banagher College Students presented with LOETB Academic Excellence Awards tonight. Comhghairdeas libh agus Maith sibh. See Gallery.
Banagher College had 2 teams representing BCCNS  at the Credit Union Quiz in ArdScoil Chiarán Clara. Well done to all who participated. Click here to see Gallery.
TY@BCCNSmojo News Crew students have produced their first weekly news update. Click here to view.

Our TY students enjoyed a German movie, "Mountain Miracle", at the Offline Film Festival in Birr.

Rang Ms McNerney.  Leaving Cert Irish Students attended "An Triail" in The Taibhdhearc Theatre in Galway.

One of our LCA2 students is doing a project on Animals Rights and is collecting food to bring to an Animal Shelter later in the month.  There will be a donation box outside Ms. Hassett's Science Room if anyone would like to bring in an item of animal food.  Thank You

Our Leaving Cert Higher Level Irish Students are travelling to Galway  to view a stage version of the L Cert play "An Triail"
Lisa Doody from University of Limerick spoke to our Leaving Certs this morning.
Bon Voyage to our 70 Second Year Students and Seven dedicated teachers who are heading off on the school tour to Barcelona tonight. Enjoy!!! Click here to see pictures of the tour.
Geography: Our LC2 Geography Class trip to the Burren. See Photos here
School Mass: The Flags of the Twenty Nationalities represented in our school community were presented at our School Mass in St Rynagh's Church Banagher.
All the L Cert Physics Students went to the Birr Arts & Theatre Centre  for a talk given by Dr Geraint Morgan from the Open University UK. The Talk was mainly on Space Research and Offshoot Industries.
1st-5th October
Our LC2 Ag Science Class are visiting Richard Fryday's Pig Farm today followed by an ecological visit to Ms Hassett's Farm in Kinnitty. Later they will visit a Robotic Milking Parlour in Mannion's of Rath.
Our TYs are attended an open day in NUIG
Top Oil North Leinster Junior Hurling Round 2 Result: Banagher College 3:10(19) Coláiste Mhuire Mullingar 2:13(19) Well done lads . Next game is at home v Coláiste Choilm Tullamore.
This week is Road Safety Week. This year our theme is # Keep on moving, # go with the flow.
Transition Years have decided to highlight the use of junction boxes and keeping left on the road.
A Quiz was held for first years on Thursday morning. Back to Top   24th-28th September
Holocaust Talk: Sincere thanks to Ms. Brennan, Ms. Weir and Ms. Mc Daid for all their efforts on organising the Holocaust talk by Toni Reichental yesterday, extremely informative and thought provoking. Very well done to our senior student cohort for their excellent attentiveness and participation.
County Sports:  Congratulations to all the athletes who represented the school yesterday at the County Sports in  the Harriers  Tullamore also Mr Lonergan, Ms Kilkenny and everybody that assisted, students plus teachers. Special word of congratulations to the Intermediate team on winning their category. Well done to all.
Click here to see Photo Gallery of County Sports
Learning & Study Skills- Super Generation for 6th Years on Monday 24th September and Tuesday 25th for 3rd years.
17th September
TY First Aid Programme- 17th and 24th September. Red Cross Certs will be awarded upon completion.
12th September
Congratulations to all our students receiving their exam results today.
LC1s Thomas Daly & Brendan Brogan receiving our 3rd Cycle against Suicide Ambassador Schools Award in Kings Inns today from Dr Harry Barry.
11th September
Thanks to Coláiste Phobail Ros Cré for two Camogie Challenge games today at Senior and Junior Level.
5th September
Teachers in Banagher College all set to roll out the #GAAFutureLeader TY Programme after meeting with our tutors.
Our careers department are off to a very busy start for the year. Leaving cert students have received our newsletter detailing what we do, important dates and useful websites for career research. This is definitely one to stick on the fridge!
4th September
Our TYs went to Bay Sports Athlone for a Team Building Day.
3rd September
Our 3B CSPE  students went on a tour to Ardnacrusha Hydroelectricity plant and Templederry Community Wind Farm today.
August 2018
Our New First Years enjoyed the Cairde Table Quiz  organised by their Cairde Teachers and LC1 Cairde students on their first day in Secondary School. Well done to the winners. Comhghairdeas libh.
School Re-Opening Dates  2018/2019 Monday 27th August:          1st Years Induction Day Tuesday 28th August:          Leaving Cert 2, LCA 2, Junior Certs & JCA 3 return Wednesday 29th August:    LC1, LCA1, 2nd Yrs & JCA 2 return Monday 3rd September:      TY Students return _____________________________________________________________________________________
May
1st May: Top Oil North Leinster Juvenile B Semi Final Result :Mountrath CS 1-22 Banagher College 2-8. Hard luck lads. Our TYs will spent the day in Athlone in the Culinary Arts Dept in AIT. They cooked in all four AIT Kitchens with AIT Chefs. A guided tour of the AIT Campus followed in the afternoon. Minor Camogie Leinster B Semi Final: Banagher College v Coláiste Mhuire Johnstown Co Kilkenny in Banagher College at 1.15pm. Full time score- Banagher College : 4-9(21) Coláiste Mhuire Johnstown : 1-5(8)
April
30th April: Boxing: Best of luck to our three students, Labhaoise Glynn , Sinainn Glynn and Clodagh O'Meara who have all qualified to compete in the All Ireland Finals in their respective weight divisions. Congratulations to Labhaoise Glynn Lusmagh on winning the Schoolgirls Cadets National title at the weekend. Labhaoise has now qualified to represent Ireland in Bulgaria in May. A fantastic achievement , well done. Well done to TY Student Chloe Reilly who played with Galway in the All Ireland Minor A Camogie Final on Sat 28th v Cork in Nenagh. Banagher College hosted the Offaly County Fleadh Cheoil this weekend. Well done to all who took part. 26th April: Our TYs heard Operation Transformation's Karl Henry speaking about the importance of being active every day at today's Healthfest in Dublin. They also heard 2FM's Eoghan McDermott speaking about maintaining positive mental health. First Year Boys Football Lge Semi Final in Ashbourne, Result : Banagher College 3-5. De Lacey College Ashbourne 5-6 Hard luck boys. 25th April: JCA Horticulture class received their certificate of participation in the SEAI one good idea competition. 24th April: Hard luck to our U-14 Ladies Footballers who lost out in the Leinster Blitz in Portlaoise today. 23rd April: Our 3C Class are visited Kilmainham Gaol today as part of their CSPE Course. 19th April: Well done to our U-14 Ladies Footballers who bt Our Lady's Bower 3-3 to 0-1 in Kinnegad & qualified for next Blitz on Tuesday April 24th. Banagher College Juvenile Hurling team played Heywood CS in the North Leinster B Quarter Final in Banagher College. 17th April: Our TY students enjoyed a fantastic trip to Italy visiting Lake Garda, Venice, Verona, taking in all the sights. 12th April: Congrats to Mollie, Karen, Rita & Shauna who represented the LCA classes at the regional semi final of Ecounesco young environmental awards. 6th April: Congrats to past pupil, Mark Boylan, on being nominated for 'Sports Writer of the Year' at the 2018 National Student Media Awards for his work with the Racing Post. Best of luck to Mark at the Aviva Stadium representing the University of Limerick.
March
24th March: Past Pupil Michaela Keenaghan perfored at the Darkness Into Light Midlands Region 2018 launch night in Banagher College last night. 23 March: Galway All Ireland Senior Hurling Medal winner Conor Cooney addressed our pupils at today's Bank of Ireland School Bank Launch. Our LC1 Ag Science Class went on an Educational Trip to Gurteen Agricultural College today. STEP UP FOR DOWN SYNDROME: Well done to all who participated on and helped to organize the awareness raising walk walk to raise funds for Offaly Down Syndrome yesterday. A special word of thanks to Gráinne and Ella for all their efforts to promote a very worthy cause. 22nd March: Our EPAS Junior Ambassadors ran a very successful Table Quiz on Wednesday. # EPAS Ireland 16th March: SEAI- One Good Idea – Competition The JCA horticulture class of Banagher College Coláiste na Sionna have progressed to Stage Two of the One Good Idea competition. It's now time to launch our campaign. When people are buying fresh fruit and vegetables we want them to – STOP! THINK S.O.S. Click here to read more See Photo Gallery   Seachtain na Gaeilge Mar chuid de Sheachtain na Gaeilge, chuir ár ndaltaí taispeántas rince ar siúl sa cheaintín inniu. Maith sibh! Ms McNerney's 2nd years enjoyed some Céilí dancing today mar chuid de Sheachtain na Gaeilge.
Winners of 1st year SnG poster competition were Maja, Megan and Paulina. Charlize de Jäger and Nicole Loughnane were winners of the 2nd year Poster competition for SnG.
Geography
2A Geog completed their Urban Functions of Banagher Task on March 16th.
Badminton: Some of our students competed in the U-14 Leinster Badminton Championships today.   15th March: Bank of Ireland Representatives spoke to 1st and 2nd year students about Banking this morning.   13th March: JCA2 and JCA3 presented their Food Miles Project to St Rynaghs Second Class today.  Thanks to the 2nd class who played our games, planted seeds, read our poem and coloured our worksheet. See Photo Gallery
Microsoft Office Specialist: Well done to TY students receiving their Microsoft Office Specialist Certs in PowerPoint
12th March:
1st Yr Leinster Gaelic Football League Result: Banagher College 11-5 Ardscoil Phádraig Granard 1-6. Well done boys.
8th March:
2nd years about to enjoy some French croissants, pains au chocolat and brioche !


Our TY European Ambassadors presenting a PowerPoint to the second years about EPAS (European Parliament Ambassadors School Program).
7th March:
Well done to our Minor Camogie Team who scored their second win in the Leinster Minor B Championship today. Next game v Castlecomer CS away.
February
26th February: Minor Camogie Leinster Championship: Banagher College played Coláiste Mhuire Johnstown in Banagher on Monday 26th February. Full time score Banagher College 6-03, Coláiste Mhuire Johnstown 3-00. 23rd February: U14 Ladies Football: Banagher College played Fallen CS Forbade in a challenge game on 23 February. Careers Department: We recommend that students check out studyclix.ie . We have negotiated a reduced sign on fee for any student interested. 6th Year HEAR & DEAR Applicants: DARE: Section A must be completed by March 1st 2018. HEAR: Complete all elements of the online HEAR application form by March 1. CAO sent an e-mail to all applicants on FEB 13th with some important information and reminders. Please check e-mails. 22nd February: U17 Soccer West Leinster Final: Banagher College played Ard Scoil Chiaráin Naofa, Clara on 22 February. Final score Ard Scoil Chiaráin Naofa 2-1 Banagher College.  On the 8th February they played Strokestown, winning 5-1. Juvenile Badminton Championships: On the 22nd February some of players participated in the tournament that took place in Banagher College. 21st February: Juvenile Hurling: Banagher College played Mullingar CBS in the North Leinster B Championship on 21 February. Score Banagher College 2-7, Mullingar CBS 2-10. Camogie: Congratulations to Louise Manion who is joint Offaly Minor captain 2018. She has already captained Banagher College to win both the Junior C and the Junior B Colleges Leinster Finals. 9th February: #SchoolsGoOrange @CAS: Banagher College goes Orange today. Our TY's headed off on a brisk nature walk this morning. Thanks to SuperValu Banagher for sponsoring oranges that were handed out to students after their nature walk today. All classes watched a school made video in roll call this morning to raise awareness about Schools Go Orange Day.
5th February: 1st Year Hurling: Our students played a challenge game against St. Raphael Loughrea on 5th Feb in Banagher.
January
31st January:
Bank of Ireland will be opening their bank in Ms. Hardiman's Room every Thursday for students who wish to open a new bank account or for students who wish to lodge money to an existing Bank of Ireland Account.
Top Oil Leinster PP School SH "B" Rest of Leinster Semi Final today. Venue was Jenkintown, Co. Kilkenny against St. Mary's CBS Enniscorthy. Full time score Banagher College: 1-05, St. Mary's Enniscorthy 0-13. Hard luck Banagher! Thanks very much to Mr. Jordan and Mr. Whelan for their work during the year.
30th January:
Thanks very much to St. Raphael Loughrea for travelling over for a very useful Juvenile Hurling Challenge this morning.
29th January:
Banagher College was named as the most improved school in the country over the past nine years in a school league table article published by the Sunday Independent.
In @TheSundayIndo don't miss our School League Tables magazine – #sindo pic.twitter.com/rn21qRwfrA

— CormacBourke (@cormacbourke) January 27, 2018
CAO: Closing Date for CAO Applications is 5.15pm sharp on Thursday Feb 1st. The cost is now €45 if you have not yet opened your account. If any advice is needed please contact your Guidance Counsellor.
Student Council: The student council have been very active getting suggestions from students for school changes. New benches have been placed in various areas of the school including around the science  classrooms. The Banagher College Radio was launched on Friday 26th January playing a variety of music around the school over the course of break and lunch.
The Junior Footballers participated in a Blitz in St. Lomans, Mullingar with their coaches Mr. Boyle and Mr. Shanahan.
22nd January:
Click here to download our prospectus for 2018-2019.
19th January:
Some students participating on our German Exchange, travelled to the beautiful Alps and town of Füssen in southern Germany.
A great trip was had by all.
The nationalities of our students and teachers survey is now on display on our EU Infopoint Noticeboard. Go check it out!
18th January: 
LC1 Student Muireann Nolan introduced Trinity Musical Society live onstage in the 3 Arena for the Cycle Against Suicide Congress today.
17th January:
Congratulations to Andrea Tesarova on 2nd place in the 18+ category at the National Credit Union Finals with her fabulous drawing at the weekend. Andrea will be presented with her prize and a cheque for €400 at a ceremony in Croke Park later in the month.
Our TY's taking part in the EU Junior Ambassadors Programme put together a new EU Infopoint notice board recently.
December
Christmas Variety Show: Congrats & well done to all involved with the Christmas Variety Show, staff and students. €720-00 collected on the day for local charities. A special word of thanks & praise to all who performed on stage and contributed to a very nice end of year occasion. For a Finale all of today's artistes combined for a smashing rendition of " Fairytale of New York".
November
21st November: Thanks very much to Jeremy Pagden (from Schools Websites) for delivering a most important and valuable talk to our students  on Cyber Bullying and Internet Safety. LC1, LC2 and First Years went on an Art Trip to Newgrange.
20th November: Our Junior Camogie team played Loreto Kilkenny in Banagher College.
18th November:  Well done to all The Credit Union Art Award Winners.
17th November:  Great win today girls, hard earned but great finish. Leinster A Junior Camogie Championship Banagher College: 2-10 St Brendan's: 4-03 13th-17th November: Stand Up Week. Our School Hoisted an LGBT Flag. Stand Up week tackles homophobic and transphobic bullying by increasing awareness, friendship and support for LGBTI students, by other students.

16th November:
3B CSPE Class visiting the Museum in Casement Aerodrome Baldonnell as part of their CSPE Course.
15th November: 
Our Second Year Home Economics Students were busy today making cakes and buns for tomorrow's Cake Sale in aid of The Rutland Centre.
Well done to all our TY Students from last year who received their JP2 Awards in Longford last Sunday November 12th with Bishop Francis Duffy.
CONGRATULATIONS TO CREDIT UNION ART COMPETITION WINNERS: Lisa Killeen, Megan Kinsella-Bergin, Ciara Clancy, Lauren Davis, Andrea Tesarova & Olwen Kenny PRIZE GIVING ON FRIDAY 17th NOVEMBER IN THE CRANK HOUSE AT 4pm.
Our Junior Golf Team took part in the Junior Golf Competition in Esker Hills yesterday.
Well done to Kevin, Tara, Corie, Sinéad and Sasha who all travelled to Lourdes this year and worked as assistants to the pilgrims there.
Junior Ladies Football: Our Junior Ladies Football Team will play St Brigid's College Callan Co Kilkenny at 11.30am this morning in Banagher College in the Leinster D Championship.
First Year Boys Football: Our First Year Boys Football Team will play ArdScoil Chiaráin Clara in The Brother Hubert Cup at 12.45pm today in Banagher College
Our Head Prefects for 2017-2018 are Brenda Wynne, Dáire Kelly, Louise Corcoran and Cillian Troy.
14th November:
SCIENCE WEEK All 5th years attended. This projection was facilitated by Tina Claffey & Caroline Conway in conjunction with Midland Science
10th November:
Juvenile Football Result: Banagher College 6-10 Gallen CS 1-6. Well done lads!
October
20th October: Awards Day in Banagher College at 1pm.  Congrats to our students who received LOETB academic awards in the Tullamore Court Hotel, supported by AIB. To mark, Space Week, our First & Second Years, made many models in Junior Cert Science Class. Over 30 of our L Certs went to Athlone IT Open Day, on transport provided by Athlone IT. Míle Buíochas. 19th October: First video report from this year's Banagher College TY MoJo team, reporting from the annual County Sports https://youtu.be/3YVw5hhYkmA  via Over 50 of our Leaving Certs headed off to Limerick to attend the Limerick Colleges Open Day. A day to decide many students destiny. 11th October: Our TY Students and their four teachers headed off to Killary Adventure Centre on this wet morning, for three days. Click here to see photos. Kieran Clancy 1A played on our Junior Golf Team in the Leinster Schools in The Heath today. 10 October: Best wishes to all our Second Year Pupils and the six teachers who set off tonight on their wonderful trip to Barcelona. Senior Ladies Football Result: St Brigids College Callan 3-8 Banagher College 2-6. Hard luck girls. 09 October:  Senior Hurling Challenge full time score -Banagher College: 6-22(40) St Raphaels Loughrea: 2-19(25) Referee:Simon Whelehan (Birr). 06 October: County Sports Competition in Tullamore. 02-06 October: Road Safety Week in Banagher College. They devised a message for each day: Monday's Message: "Going too fast, you won't last". Tuesday's Message: Under the influence, Under Arrest (Drink or Drugs) Wednesday's message: "Dont drink and drive, stay alive" Thursday's Message: "Stop the texts, stop the wrecks". Friday's Message: "Loose objects in the car should be in the boot". 05 October: Our "Beginning Of Year" School Mass takes place today Thursday in St Rynagh's Church at 12pm. 03 October: TY's completed a First Aid course in school today. 3C Class went on their CSPE tour to the Air Corps Base Baldonnel today. 02 October: LC2 LCVP trip to Butlers Chocolates in Dublin today.
August/ September 2017
26 September: LCA 1 and LCA 2 had a lovely morning on their Art Trip to Clonmacnoise. Hard luck to our hurlers in the Leinster Junior Hurling B Championship against Mullingar CBS. Final score: Banagher College 3-12  Mullingar CBS 2-17. 25 September: LC1 and LC2 Art trip to the Hunt Museum & the Jack B Yeats & Paul Henry Art Exhibition. A very interesting trip for History of Art Exams.
This is the start of kindness week.
Thought for Monday: "One kind word can change someone's entire day" Thought for Tuesday: "Be kind because you never know how much the person beside you is suffering." Thought for Wednesday: "No act of kindness however small is ever wasted." Thought for Thursday: "A little more kindness, a little less judgement." Thought for Friday: "Leave a little kindness wherever you go." 25 September: Well done to LC2 students Tara Kennedy,Corie Killeen, Sasha Connolly & Luke Hein who have just returned from a week in Lourdes as Assistants with Oblate Pilgrimage. 22 September: Hard luck to our Junior Hurlers who played against Naas CBS today. 20 September: JCT- Whole School CPD Day 19 September: National Ploughing Championships 15 September: Hard luck to our Junior Hurling team who were beaten 5-12 to 5-06 by Colaiste Choilm in Tullamore. 14 September: LC Agricultural Science students visited Tim Mannions farm. There they saw Lely Robots in action milking the cows. The students also did some ecology practicals at Ms. Hassetts farm. Welcome to our German Teachers and Students from Bavaria joining us for a week as part of an exchange programme. They will take part in classes and go on some trips. The Cliffs of Moher and Galway City will be visited tomorrow. 13 September: Congratulations to Ms. Gleeson and her Cycle against Suicide team on achieving Cycle Against Suicide Ambassador School Status for 2017. Well done to Becky and Daniel for representing the group at the Royal Hospital Kilmainham and congratulations to Muireann on being selected as a leader.  Minister of State for European Affairs, Helen McEntee was in attendance. Well done to all students who received their Junior Certificate Results today. 8 September: TY Students had a great bonding day in Bay Sports, Athlone. Well done to our 1st Year Boys who played the Marist, Athlone in a very good hurling challenge. 28 August: Well done to our 1st year tutors and our Cairde teachers who organised a most enjoyable table quiz for our new 1st year students.